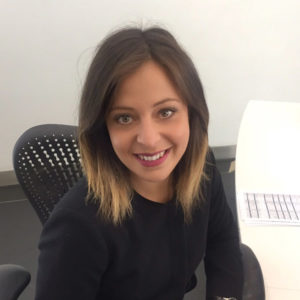 Ilaria Carandente is a registered dietitian, member of the Health and Care Professions Council (HCPC).
She graduated in Dietetics and specialised in Human Nutrition at the "Federico II" University in Naples in 2014. She is also a member of the Health and Care Professions Council (HCPC) from 2017.
Work experience in Italy
She worked as Dietitian in the Department of Cardiology at the "Federico II" Hospital in Naples where she focused on the treatment of patients with cardiovascular diseases in particular the ones recovering from stroke.
She was also involved in several publications and research projects, presenting her data at regional and national scientific conferences.
She also collaborated with gynaecological and paediatric practices, treating children with eating and metabolic disorders as well as providing nutritional support to pregnant women, from the first stages of the pregnancy to the lactation period.
Work experience in UK
Ilaria Carandente moved to London in 2014. She was involved in the support of patients with HIV running courses on specific nutritional topics.
She started practicing as Dietitian at Dottore London in 2017.
Expertise
Expert in weight management, nutritional treatment and support for: metabolic diseases, eating disorders, bowel disorders, cardiovascular disease, allergies, celiac disease, lactose intolerance, hormonal disorders, pregnancy, lactation, children, interaction between diet and drugs and/or medical treatments, sport nutrition.
Languages
Italian, English.
Summary
Ilaria Carandente is an Italian dietitian in London.